Always a clean production area
Maintaining a hygienic production environment is essential in the food industry. Among other things to prevent cross contamination and to meet quality and HACCP requirements and standards such as BRC, IFS and FSSC 22000. But in everyday practice, where residual flows and waste are continuously released, this is not always easy. Vacuum extraction of waste streams quickly and hygienically helps to keep the production environment clean and safe.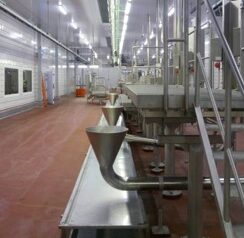 Vacuum transport via closed pipes is an even less well-known alternative for collecting and removing waste and residual flows from the production environment. More common in the food industry are conveyor belts, conveyor screws, water chutes, norm trolleys and dolavs. Among other things, vacuum transport is a good solution for improved food safety and hygiene.
To prevent contamination with microorganisms, production areas are divided into zones or hygiene levels: from low care to high care. These zones are maintained through, for example, overpressure, disinfection locks and other barriers. Vacuum conveying systems prevent the transport of residual flows and waste between areas with different hygiene levels. The residual flow is extracted in the room where it originates via collection hoppers and a closed pipe system to a central collection point elsewhere in the plant.
In slaughterhouses and meat processing plants, fish processing plants and fruit and vegetable processors, for example, large quantities of waste, residual flows and by-products are released. These streams contain microorganisms, possibly including pathogens such as listeria or salmonella. Fast removal is therefore crucial to keep the number of germs in the room as low as possible and to prevent cross-contamination.
Hygiene and food safety
Important reasons for food producers to choose a vacuum transport system are therefore hygiene and food safety, says director Eric Oving of HYTT, which specializes in vacuum transport in the food industry. HYTT's customers want to eliminate risks and prevent movements between areas with different hygiene levels. In addition, buyers of by-products and residual streams are imposing increasingly stringent requirements on their hygienic handling. This also makes companies opt for vacuum transport.
Last year, for example, HYTT provided a fruit and vegetable processor in France with a vacuum system. They supply sliced fruit and vegetables to hypermachés and supermarkets in France. 'They wanted to put up a state of the art factory,' says Oving. In their view this required a vacuum system for the removal of cutting residues, and not water gutters. With water gutters they could not guarantee the zoning from high-hygienic to low-hygienic, the architect told us.
Vacuum technology simple and low-maintenance
However, many parties have the idea that vacuum transport is complicated. They don't know how it works, Oving notes. However, the operation is relatively simple and if the ejector specially developed by HYTT is used, low-maintenance. You have a number of extraction points with funnels. The residual product falls into the funnel. As soon as it is full, a vacuum is created, the valve opens, and the pressure difference creates an air flow in the tube. This is how you extract the product to a central destination. The system hardly takes up any space: all you have is a tube of up to 200 millimeters that goes up at the hopper and is led along under the ceiling.'
Through a clever control system, several funnels/extraction points can be connected to one vacuum transport unit that take turns extracting a batch. This is different from blowing product flows, where each point requires a blowing unit. Also, vacuum transport does not have the disadvantage of blowing that there is a backflow of air into the clean production area. Thus, air quality is better maintained.