Food safety and HACCP
If you are a company active in the food industry, you are legally obliged to comply with the established hygiene regulations according to the HACCP guidelines. But the food trade also imposes strict additional conditions on its suppliers and consumers themselves are becoming increasingly critical. An internal quality policy that goes beyond the legal requirements is therefore necessary nowadays.
Most food producers have a thorough international food safety management system and have certified it. In the Netherlands, most companies have an IFS, BRC(GS) and/or an FSSC(ISO) 222000 certificate. A food safety certificate is the proof that you have your processes in order and demonstrably work according to the guidelines. These are global standards from which a lot of status and reliability can be derived.
Hygienic internal transport
In the FSSC 22000, IFS and BRCGS standards, the principle of continuous improvement has been incorporated so that the standards help us to improve our own quality system and reduce food safety risks. One of the possibilities here is the improvement of internal transport.
During food production, it is important that the production area itself remains as clean as possible and that all waste, residues and by-products are disposed of in a hygienic way so that they can be reused or destroyed. At the moment this is often done in carts, bins or with other internal transport means.
HYTT supplies a system of closed pipes with which these residual vapors from several production halls can be discharged super-fast, hygienically and safely to a desired point in or outside the factory. The system works by means of a central vacuum generator to which several extraction points can be connected that transport the residual steam to a central container. The extraction points are placed at the point where the residual steam originates.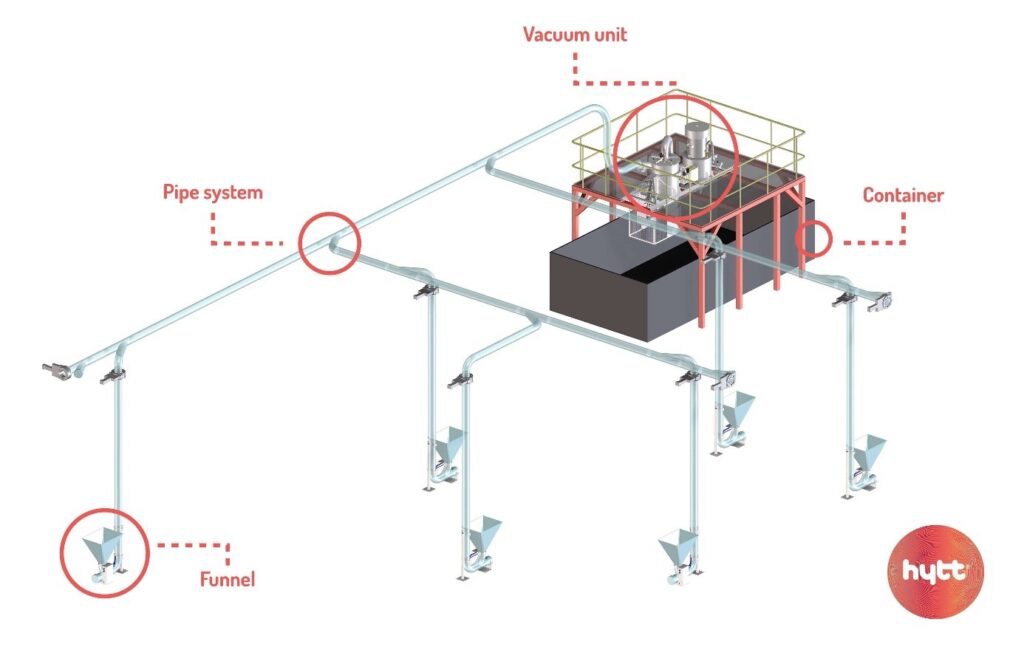 The hygienic internal transport not only reduces the risk of cross contamination but also offers the possibility of a better valorization of waste or by-products and residual streams.
The system reduces manual internal transport, saves space and makes forklifts unnecessary to pick up these residual flows. This creates a more hygienic and safer working environment.
The new way of working can be recorded in the quality management system which contributes structurally to quality assurance and food safety. Various leading players in the food industry who supply the most demanding food retailers such as McDonalds have already opted for this method.
Obtain a food safety certificate
How can hygienic internal transport contribute to obtain a food safety certificate? Would you like to know whether hygienic internal transport of waste and residual flows is possible in your production area? We are happy to put our experience to work for you. Feel free to contact us to learn more about our system and what we can do for you!
We will be happy to email you a case study and contact you to answer your questions.
Please fill in the form below.