HYTT had the pleasure of speaking with Eric Ebling, director of maintenance at Bell & Evans. Ebling has been with Bell & Evans for about 25 years and has a lot of experience in the poultry industry.
Who is Bell & Evans?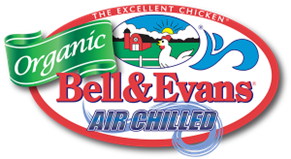 Bell & Evans, a family business, is America's oldest branded chicken company. Not just any poultry processor, Bell & Evans is highly innovative and continuously raises the standard in poultry processing.. Bell & Evans manages its entire model from the breed, the hatchery, partnering with family farms on chicken housing, production of its own organic feed, transportation and finally the meat processing and packaging. Bell & Evans makes animal welfare a top priority. No antibiotics are used to raise the chickens, and its 100% Rule commitments are one of a kind. In the end, the consumers are rewarded with honest and excellent poultry products.
New factory in Fredericksburg (PA)
In 2020, Bell & Evans broke ground on a new facility in Fredericksburg (PA). Stellar designed and built it in close cooperation with Bell & Evans. The $360 million facility began operating in December 2021 and was named the 2022 Food Plant of the Year by Food Engineering for its innovations, automations, and high scores in all categories including team member welfare, animal welfare, product safety and quality, and sustainability.

One of Bell & Evans' questions was: how can we transport the by-products in a hygienic and efficient manner? HYTT's vacuum transport system came into the picture. Eric Ebling: "I was familiar with vacuum transport systems and was sure that this solution would solve the problem. A visit to HYTT's reference plant in a pig processing facility in Chicago was decisive for me. The product pipes can run overhead, and if machine positions change, it is easy to move suction points. Adding suction points is almost unlimited and there is never an overpressure in the pipe which eliminates dirty air entering a hygienic area. The system works properly, and we are very satisfied."
What has HYTT contributed?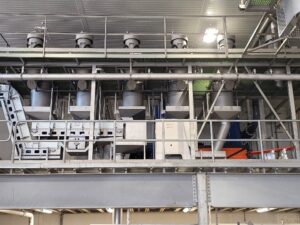 HYTT has supplied seven vacuum transport systems with 30 suction points and more than 1.000 meter of pipeline that moves the by-products quickly, hygienically and without human intervention to seven destinations. In addition, the solution is more sustainable: the residual flows meet the HACCP standards and can be further processed. The production area is cleaner and safer, which also improves the working conditions of the staff.
HYTT enjoyed the collaboration with the different partners like Stellar, CHL Systems and Marel Poultry that all had the same goal to realise a state-of-the-art harvesting facility. The cooperation with Bell & Evans and specifically with Eric Ebling was very pleasant. Ebling had the authority within Bell & Evans to support partners like HYTT based on his extensive experience and knowledge and an existing relationship with Paul Wijngaarden from HYTT. "I have known Paul Wijngaarden for over 20 years, and he has always been very helpful. HYTT listened to us when we explained our thoughts, our wishes but also to our experience. It was a match."
COVID-19 crisis and the restrictions
The virtual communications were extensive due to COVID, and HYTT was always one step ahead.
Since HYTT's supervisors were unable to travel to the USA to install the system, everything was sorted and labelled with the accompanying installation manuals. "HYTT solved this problem very professionally by labelling everything so it was very easy for us to assemble the parts. If HYTT is unable to be present during any future installations, I recommend that they do it this same way because HYTT was the only company who started up with no single failure," said Eric Ebling