A HYTT transport system, your internal transport solution!
Internal transport is a difficult aspect to manage. When internal transport is not optimized, this will cost a lot of labour and money. Thanks to HYTT hygienic transport systems, there is much less need for internal transport. Due to HYTT vacuum transport systems, the internal transport is fully automated and hygienically. If you have a problem with in your internal transport, we have the solution!

What is a HYTT hygienic transport system?
A HYTT hygienic transport system is designed for the collection and conveying of various materials. These are materials ranging from by-products to final products. HYTT hygienic transport systems can be installed in new or existing plants without needing to change the buildings infrastructure. When changes need to be made to the plant, HYTT vacuum systems can be disassembled and relocated. This is a great benefit compared to the so called "flume systems".
HYTT uses a closed piping system which sucks waste or products away from the production area to a central point elsewhere in the plant. By using a closed piping system, there is a significant reduce in cross contamination risk. Next to this great benefit, the HYTT system also improves the overall hygiene, the safety and also reduces the needed labour. The air that is needed to transport the product is very limited thanks to an optimized suction time and an ingenious air inlet system.
Why use a HYTT system?
Even though we named a few already, HYTT systems have a lot of benefits. A few of those benefits are:
Significant increase of the overall hygiene.
Significant decrease of cross-contamination risk.
Reduction or complete removal of internal transport.
Reduction in needed work labour.
Efficient use of the production area.
Safer work environment.
No building infrastructure changes needed.
Can be installed in new or existing plants.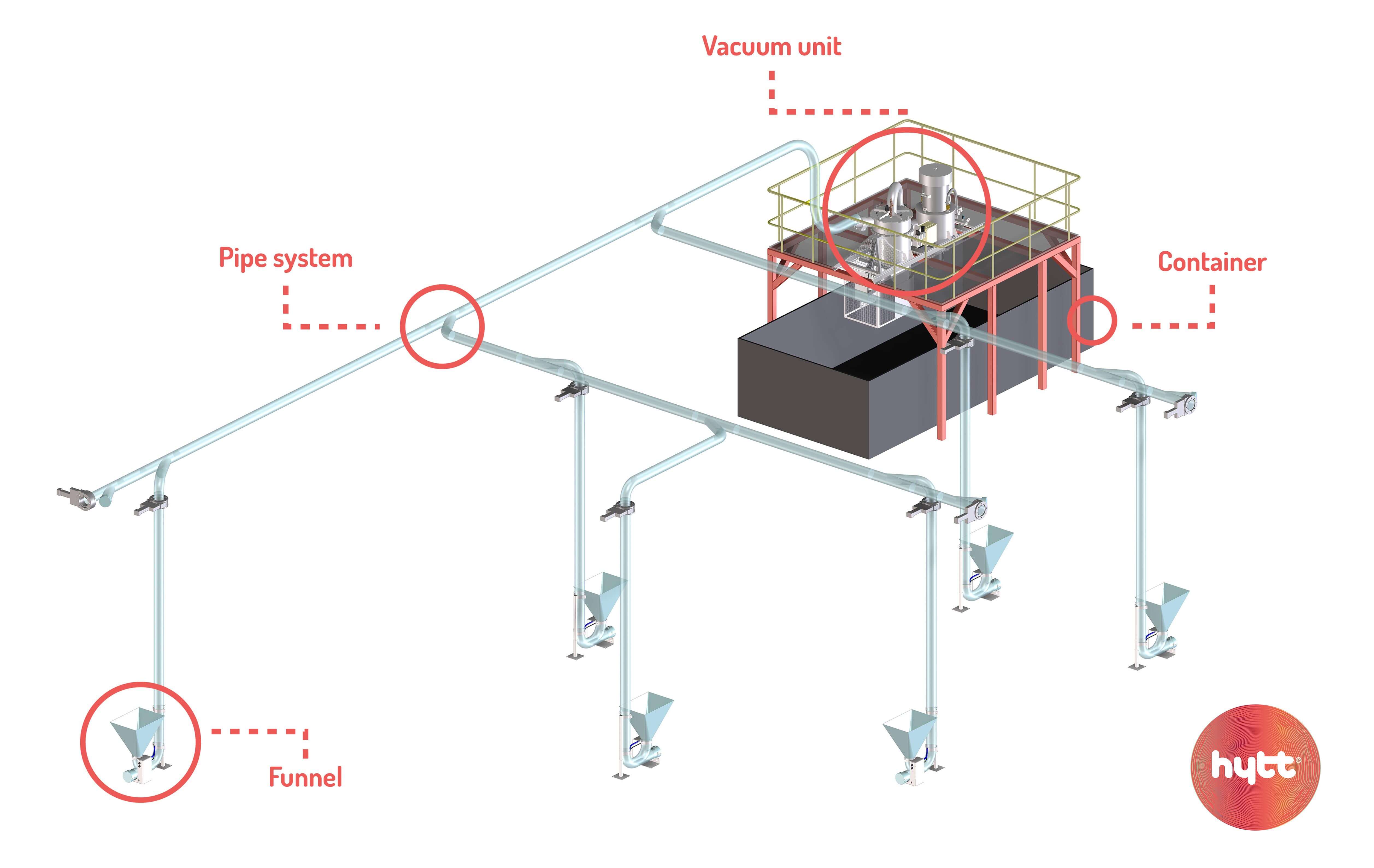 Our system, your solution!
Interested in all these benefits? Would you like to know whether hygienic internal transport of waste and residual flows is possible in your production area? We would be happy to put our experience to work for you.  Feel free to contact us to find out more about our system and what we can do for you!